Nestle Tollhouse Cookies: Vegan-ized!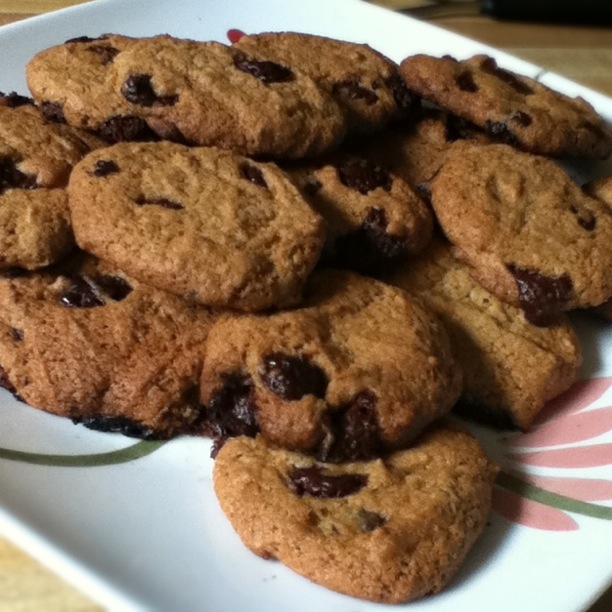 When I was little, I thought my mom made some of the best chocolate chip cookies on the planet!  Come to find out, her recipe was the same one that's found on the back of millions of Nestle Tollhouse chocolate chip bags worldwide. Unoriginal, yes, but still delicious.  Naturally, this was one of the first cookie recipes I vegan-ized:
Ingredients:
2 1/4 c. all purpose flour [or a spelt/all purpose combo if you're feeling a bit healthier] 1 tsp. baking soda 1/2 tsp. baking powder 1 tsp. sea salt 1 c. Earth Balance, softened 3/4 c. beet sugar 3/4 c. brown sugar 1 tsp. vanilla [I always over pour a bit for extra flavor] 1/2 c. applesauce 2 c. vegan chocolate chips
In a large bowl, combine flour, baking soda, baking powder, & salt. Set aside. In a medium sized bowl, combine Earth Balance, sugar, brown sugar, vanilla, & applesauce until smooth and creamy. Combine wet ingredients with dry ingredients in the large bowl.  Add in chocolate chips. Place  small spoonfuls of dough onto a lightly greased cookie sheet about one inch apart. Bake at 375 degrees for 9-11 minutes.
Don't forget to enjoy some of the cookie dough while you bake!