Make Something Monday: Cookie Dough Hummus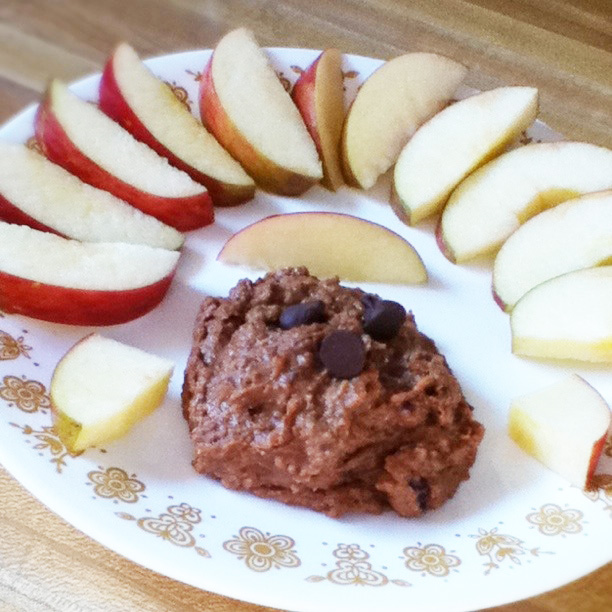 Now that summer is finally here, our kitchen is about ten degrees hotter than whatever the temperature reads outside. The last thing I feel like doing during these sweltering summer days is turning on a hot oven, no matter how much my stubborn sweet tooth craves cookies. That's why I was so excited to find Cupcake Kat's recipe for cookie dough hummus.  I know, I know, chickpeas + cookie dough sounds like a disastrous equation, but it's surprisingly delicious. Just don't expect a chocolate chip cookie dough taste, it's more cinnamon oatmeal with a few chocolate chunks thrown in.
If you'd like to achieve something closer to chocolate chip, try using less cinnamon and more vanilla. Serve with apple slices and enjoy!
Ingredients: 
1/4 cup hot water 2 tbsp dried cranberries Pinch cinnamon 1/4 cup apple sauce 2 tbsp peanut butter almond butter 1/2 tsp vanilla 1 1/2 tsp ground cinnamon 2 tsp agave syrup maple syrup 1/2 tsp coconut oil 1 tbsp ground flax seed 1 (15 ounce) can chickpeas 2 tbsp oats [I used steel cut for a chewier texture.] 2 tbsp shredded coconut 2 tbsp chocolate chips a sprinkling of chia seeds [my addition]
Place dried cranberries and cinnamon in a bowl and pour hot water over top. Let this sit for about ten minutes. While waiting you can continue with the next steps. In a food processor, add applesauce, almond butter, vanilla, cinnamon, maple syrup, coconut oil, flax seed, and chickpeas. Process until the chickpeas are pureed and the mixture is smooth and creamy. Now add in the oats and blend until they are just mixed in and have partly turned into oat flour. Drain cranberries and add into your processor along with the chocolate chips, chia seeds, and shredded coconut. Pulse mixture until everything is combined.